Some of our readers might be interested in a recent publication, commemorating the fifth anniversary of the unveiling of the memorial to Victorian Forgotten Australians. In October 2015, Open Place (Victoria's support service for Forgotten Australians) published a booklet of recollections from nine men and women who grew up in 'care', called We Remember You ….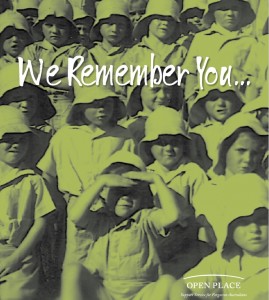 A number of the contributors reflect on their experiences in the Box Hill Boys' Home, run by the Salvation Army. Bill shares his memories as a former student of the school located on the Home grounds (State School No 4151) in the 1940s and 1950s.
These days, I tell the story of how much I must have loved school especially year eight, because I spent three years there. Several of us boys completed grades 7-8, and then repeated grade 8 because, at thirteen years of age, we were still too young to be sent to the hostel, and not old enough to leave school.
Bill, incidentally, went on to achieve his Higher School Certificate and a Social Work degree.
Alfred's first memories of Box Hill are of the toddlers section (formally known as Section Three or Number Three), where he lived from 1946, with around 50 other boys, aged between 4 and 8. The Number Four section was for boys aged 8 to 10, and accommodated about 40 children.
Alfred explains that once boys reached 10 years of age, they were transferred to Section One. Then, once aged around 14, the boys were relocated to a placement with a private family, to a hostel or to work on a farm. He describes the brutality some officers inflicted on boys in section number one. 'I struggled to understand the stark contrast between the incessant preaching about God's love and the underlying brutality …'
Alfred describes the importance of religious instruction to the boys' routine at Box Hill. They sang grace 6 times a day, and attended a 15 minute Bible reading every day before school. Sunday mornings brought an hour-long address by a senior officer, and in the afternoon, 'after Sunday lunch we were marched down to the City of Box Hill to a so-called citadel for two more hours of more religiosity'. Alfred reflects that 'The persistent talk of a God in the sky reading our every thought was oppressive to a young mind'.
Alfred left Box Hill not long after his twelfth birthday, and was adopted by a family in Footscray. 'This was the start of my new life'.
The publication includes the stories of 3 siblings: Joe, Ray and Joy. They (and 2 other siblings) were taken into the Children's Welfare Department in November, 1944 – the court proceedings involving their parents were reported on in Melbourne newspapers. Despite being separated from their parents' care and each other as children, the siblings managed to reconnect as adults.
The separation of siblings was a feature of the child welfare system until well into the 1960s. Indeed, a report published in 2015 by the CREATE Foundation (see Sibling placement and contact in out-of-home care) shows that siblings in out-of-home care continue to be separated from each other.
The organisational structure of children's institutions played a major role in the separation of siblings. The predominantly single-sex Homes resulted in the separation of brothers and sisters. Within Homes, children were also separated by age (as Alfred's story demonstrates, boys at Box Hill were moved from section three, to section four, to section one as they grew older). Contact between boys in the different sections of Box Hill, whether or not they were related, was not encouraged. Joe recalls that even though he and his 2 brothers were all placed at Box Hill Boys' Home, 'We were never allowed to have contact with each other'.
Their sister Joy (who was fostered out by a Salvation Army family at the age of 14 months) reflects on this: 'What I have found to be a most disturbing fact is that the 3 boys did not not know that each of them were in the same home as they were placed in separate sections … The authorities did not have the decency to bring them together'. Joy had a friend whose parents were posted at Box Hill, and she even went regularly to Sunday lunches at the Box Hill Boys' Home.
'It was never mentioned to me by my foster mother that this is where my three brothers lived. To this day I will always remember how close I was to them. Nobody said anything but they all knew.'
Like Alfred, Ray too remembers the brutality of some officers at Box Hill. Ray also talks about the kindness of some carers, like Captain and Mrs Steer: 'He would make us billy carts, and flying foxes. Very rarely did he or his wife scold us. Mrs Steer is now 90 years old and I still keep in touch with her'.
The stories of Forgotten Australians help us to understand what life was like in children's Homes. These stories demonstrate how childhood experiences have a lifelong impact. These stories also show us the strength and resilience of Forgotten Australians. Kenneth (who was the youngest of five children) endured terrible suffering while at Turana and Box Hill Boys' Home. As an adult, he overcame poor literacy and debilitating back pain (as a result of floggings) to run his own business, marry and have children, and reconnect with his family. Kenneth says:
'Looking back I realised it took me ten years to sort my life out. I also realised that it was me that did the sorting … I have always fought hard for everything in my life. I am still fighting for information on my brother and my family.'
By telling these stories of Forgotten Australians, We Remember You … makes an important contribution to the historical record and to current and future initiatives that seek to address the wrongs of the past. In the words of Simon Gardiner, Manager Open Place: 'As a community we must remember these stories'.