This past week, the Royal Commission into Institutional Responses to Child Sexual Abuse has resumed its hearing for the Case Study into the Catholic Diocese of Ballarat. Cardinal George Pell's testimony from Rome lasted four days and was a pivotal moment in the eyes of Ballarat survivors of child sexual abuse.
One of our Chief Investigators, Professor Cathy Humphreys, wrote an article for The Drum, last Wednesday, called George Pell and the power of indifference. In the piece Cathy discusses why 'victims of child sexual abuse [in Ballarat] have reason to feel disappointed by George Pell's testimony so far at the Royal Commission'.
Ballarat has been prominent in the news in recent years. Claims of human remains on the site of Ballarat Orphanage led to the grounds being searched for children's bodies last year (Ballarat Orphanage: Digging resumes for children's bodies, The Age). And an increasing awareness of the prolific child sexual abuse that occurred within Ballarat has raised the profile of the Victorian town to the international level (Australian Cardinal Admits Abuse Failure, Wants to Help Town, New York Times).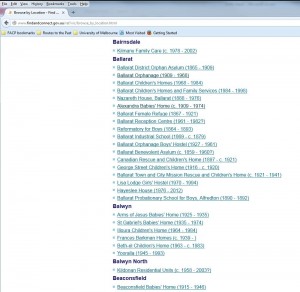 A regional hub for many communities, Ballarat was the location of a large number of children's Homes. Two institutions that have featured prominently in the recent investigations by the Royal Commission are Nazareth House, Ballarat and St Joseph's Home, Sebastapol. Both were run by the Sisters of Nazareth. The many victims of convicted paedophile Fr Gerald Ridsdale include children who lived at Nazareth House and St Joseph's, where Ridsdale was a 'visiting chaplain'.
As Professor Humphreys concludes, the Catholic Church of Australia's failings in the past, 'led to the Diocese of Ballarat in the 1970s and early 80s being, in the words of David Marr, one of the most dangerous places in Australia for children. Victims, families and communities need greater reassurance about how and why this will not be able to happen again'.