This is the second year that Find & Connect will participate in #BlogJune. We're posting every day this month to celebrate our new look!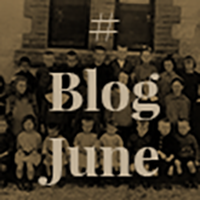 We'll cover all sorts of issues that we've come across in our work on Find & Connect, with a mix of articles, podcasts and even some video to keep things interesting. We'll be talking about some of the international conferences we'll attend, take an in-depth look at the history of care in Australia, cover the efforts other countries have made to address their own histories of "care," and we've even come up with a must-watch/must-listen list of film, exhibition & audio.
We've freshened ourselves up for the occasion and are really excited to launch the new-look Find & Connect right here on the blog. Our new look will be carried through to the Find & Connect site as we continue to update and improve our online resources.
Back in January we flagged that we'd be making some changes to the site, in order to make it more accessible, more relevant, and more useful to those who need it most. This has become even more important as redress schemes are being announced, and organisations and Care Leavers are looking to Find & Connect to piece together their history of "care".
As part of our site improvements, we're launching a survey into how you use the site, or how you'd like to use it if you don't already. It's online now, and if you have a spare few minutes, it would be really useful for us to get your feedback on what works well & what could work better. We'll also email the survey soon so keep an eye on your inbox. We're keen to find out how you use the site, what's easy, what's not and what you'd like to see improved. We'll pull all that information together and use it as the basis for every decision we make when we update the site. We'll also be looking for volunteers to test the site as we progress, so please let us know if you'd be interested in coming along on this journey with us.
We'd love you to be part of the conversation, so please share your thoughts on any of the posts that get you thinking, or your ideas for what you'd like us to cover. Tomorrow we'll kick off with our new "what to expect" resource for those accessing their records for the first time.
Look forward to seeing you here tomorrow!
Cheerio,
The Find & Connect Team.