The Foundling Museum, which opened in 2004, explores the history of, and contemporary responses to, the Foundling Hospital, which operated from 1741 to 1954, primarily in the centre of London. Babies, usually from unwed mothers, were handed in to the Hospital. There, they were registered with a number and given a new name – to disguise any connections to their birth families..
Children were generally fostered out to families until they were around five, when they returned to the Hospital for care and schooling. During this time, they were required to wear uniforms and conform to a strict regime of schoolwork and chores. Girls were generally prepared for work as servants; boys were expected to go into the military.
The Foundling Hospital was a popular charity to patronise, and the Museum also has an extensive art collection with pieces by Hogarth, Gainsborough and Reynolds among others – many of these were donated by the artists to create one of the first publicly accessible galleries in London.
While the Founding Museum provides exhibitions of its historical materials (both objects from the Hospital and the art collections), it also has ongoing projects with artists today who provide contemporary responses to the issues raised at the Museum. The artists often work with children and Care Leavers in developing these artworks and installations.
One of these pieces was Sea by Jodie Carey, which was made by taking scraps of fabric and dipping them in liquid clay before being fired in a kiln. The firing process causes the fabric scraps to burn away, leaving imprints and traces on the clay surface. Carey has arranged thousands of these small clay pieces on a large surface which is accessible from all sides.
Another piece, Labelled, by "Care leavers from Westminster and Ealing and artist Emma Middeton", took words which adults had said to the Care Leavers and used them as tags on school shirts. This installation reflected the children's experiences of being labelled a "child in care" while at school, and was also a response to the Foundling Hospital uniforms the children were required to wear.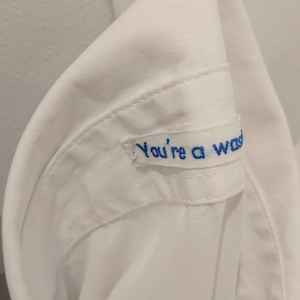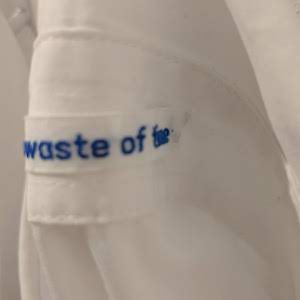 Finally, Lemn Sissay's poem Superman was a Foundling is printed in large letters on one of the walls of the museum. The poem explores the prevalence of characters in popular culture who grew up in out of home care, asking why they are such a popular trope in fiction, compared to real people's lived experiences of 'care'. You can see video of the installation of the poem and a speech Sissay gave at the opening on his website.