This substance of this post was provided by Greg Baker, reproduced by permission, from a talk he gave about the impact accessing records can have on Care Leavers. All words (below the introductory paragraphs) are his
To obtain a Records Access Documentation grant, organisations must demonstrate how they will improve access to records for Care Leavers – this can include making more records available (including photos, video or sound recordings) as well as surveying and indexing existing records, reducing the timeframe between requesting records and accessing them, and providing information about records on findandconnect.gov.au.
That records are important to Care Leavers is understood, but the importance they hold can really only be described by some-one who has been through the experience of firstly finding out that records may have been kept about their life, then discovering that those records may be missing, or don't contain important information, and finally, if they are available, accessing the records about their lives.
Successful RAD applicants are required to attend a workshop, an important part of which this year was hearing from a Care Leaver, Greg Baker, about that journey from discovering that records were kept and may still exist, to the impact that accessing them can have on some-one's life.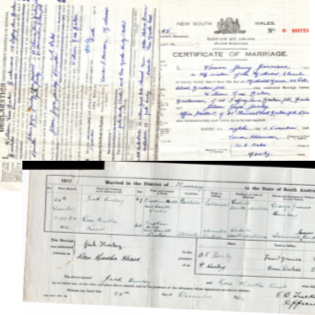 Image of records provided by Greg Baker for the 2019 RAD workshop
Greg Baker generously agreed to speak to those working on RAD-funded projects, and had a profound impact on everyone in the room. With Greg's permission, we are sharing the following for those who may be working with records, or those trying to find them, so we can have a better understanding of what records are, and what they mean, to the people they were created about.
The following are all Greg's words, taken from his presentation at the 2019 RADGrants workshop:
Photos, family stories, school reports, achievement awards and childhood friends are sadly lacking or non-existent for many care leavers. All that is left is "official" records.
These records are wide ranging, and can be of little importance, or it can be life changing.
The difficulty for record holders (the gatekeepers) is not knowing what is important, or if a certain phrase or sentence can change a person's understanding to their past, and/or will begin the healing/grieving process; or worse still, record holders do understand, and withhold / destroy records, or make it difficult for the care leaver to view, to access. To share ownership is the only way forward, and the fundamental right of the care leaver.
Access to records can authenticate and give credence to the care leavers memories and experiences in care. Even if the records are lacking in detail, existence, or be counterproductive, they are important and relative to the journey.
I witnessed the release of, records 6 years ago at an "orphanage" reunion. I watched a fifty eight year old man cry uncontrollably as he realised he had two other brothers he never knew. Another found out his father's real name for the first time.
Records have, and are still able to, change people's lives, memories and perceptions of their world. They can also give rise to resentment, bitterness, depression and animosity. It is not the record holders to judge the veracity or relevance of any record, the consequences of those records should be dealt with after the access.