Post by Care Leaver Wayne, and Cate O'Neill
At the Find & Connect web resource, we receive many emails giving us feedback about the information on the site. Find & Connect is a 'living resource', that continues to grow and change as we discover more about institutional care in Australia, and records become available to Care Leavers. The first 3 years of the project was a period of intensive research and content development by our state-based historians. The historians used a wide range of published and unpublished materials in libraries and archives to build the resource's entries, with the goal of documenting every institution that existed in Australia since 1788 up to 1986. Feedback emails were hugely valuable to our historians – people got in touch to let us know what Homes were missing from Find & Connect, to contribute information, and to let us know about additional sources. We continue to rely on feedback emails today.
Most importantly, these emails are a reminder that the entries on Find & Connect relate to the lived experiences of thousands of people who were in institutional 'care'. For too long, the voices of the children and families caught up in the child welfare systems of Australia went unheard. Instead, the history was presented from the perspective of the institutions and the officials that ran the Homes.
To find the perspectives of people who lived in institutions, Find & Connect draws on sources like submissions to public inquiries, oral histories, memoirs, newspaper articles and blog posts, where Care Leavers are telling their own stories and challenging official narratives. The number of these resources has grown exponentially since the Find & Connect project started in 2011.
Many people with lived experience of the institutions on Find & Connect have got in touch with us. In many cases, with the consent of the correspondent, we include material from these feedback emails that helps to convey information about a Home from the perspective of the children that once lived there. The stories in these feedback emails also contradict and challenge information that comes from official sources.
This blog post contains just one example of how a feedback email a former resident of a Home has shaped the content on Find & Connect. In August last year, we received a feedback email from Wayne, who had lived in Mittagong Cottage Homes in the early 1970s. He wrote:
I was in Suttor Cottage circa 1970 /71. Although the glowing reports of children's welfare are published by former employees I can attest that living on the farm was not so nice. Corporal punishment on 5 year olds was regularly used. There were some 'nice' people there, not many. Teachers were the biggest offenders. Anyone interested in the story from the child's experience? Regards.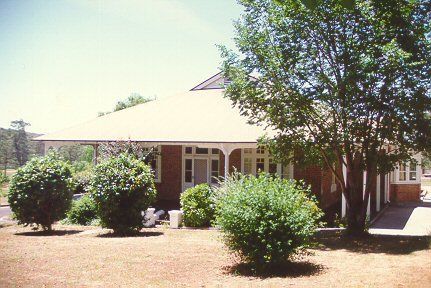 Suttor Cottage
Wayne's email led us to devote some time to looking for some more sources that highlighted the more recent history of Mittagong and included the perspectives of former residents.
We published an updated entry in late September 2018. It now includes more information about Mittagong during the post-World War Two period. We added a quote from a submission made to the 2004 Senate Inquiry by a former resident.
After the update, we got back in touch with Wayne to let him know that we'd updated the entry. In response to the new material from the submission to the inquiry, Wayne sent another email sharing his own memories of polishing the floorboards:
I too had to polish that damn floor with an electric floor polisher. It dragged me across the hall and threw me off, of course I was a 'very naughty boy'

The washing shed was the punishment, dragging wet sheets out of the washing machine then running them through the wringer on the top of machine.

Also marbles were a big thing, playing marbles.

Seems like the girls got it as bad or worse, I don't think things would be any better today, there's a thing about being in charge of others that appears to bring out the worst in others.
We asked Wayne if he'd be happy for us to include some of his memories of Suttor Cottage at Mittagong on Find & Connect. (When we include material from feedback emails, we give people the option to choose whether they'd like to be anonymous or to include their name.) The entry now includes his account of a typical day at Suttor Cottage.
We'd like to take the opportunity to remind all of our readers that we value all feedback about Find & Connect. It's not always possible to take up people's suggestions for change or to publish people's stories at length. But every feedback email that we receive about the site is an opportunity for the team to review our content and we respond to every message that we receive. So please, don't be a stranger!