Throughout 2019 we will be highlighting projects funded by the RAD (Records Access Documentation) Grants.
When records were originally made and filed by institutions, there was no consideration that the children those records were created about might one day return to search for them. This has led to a number of impacts on people who spent time in institutional "care". The language used about the children in records can be offensive and cruel. Information contained within records may not assist those searching for a greater understanding of how they came to be in "care," or the identity of their family. Some institutions destroyed records, or kept them in a way that made them impossible to search effectively.
Anglicare Victoria has identified several hundred boxes of records that were never correctly listed, making it impossible to efficiently search for and find the information within the records they contain.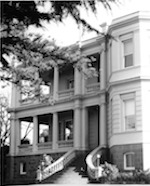 St John's Home for Boys, Canterbury, Vic
A RAD-funded grant has given them the capacity to review and index these boxes, revising incorrect information, and providing new information about the records where they find it.
Cataloguing and indexing the boxes will make their contents accessible to Care Leavers, as the type of records that have been retained and who they relate to is discovered, and that information is entered into a searchable database.
Care Leavers will be able to access more information , and that information will be more relevant to them. Anglicare Victoria will ensure that developing a searchable records database with a high level of accuracy will "enable a respectful and timely response" to Care Leavers requests for records.
Anglicare Victoria are located in Victoria
For more information on Anglicare Victoria, see: https://www.findandconnect.gov.au/ref/vic/biogs/E000009b.htm