Throughout 2019 we will be highlighting projects funded by the RAD (Records Access Documentation) Grants.
In 2017, St Joseph's Cowper transferred its operations to MacKillop Family Services. The hand-over included the records of more than 2000 children who spent time living at St Joseph's Orphanage in Cowper, outside Grafton, NSW from 1914 to 1972.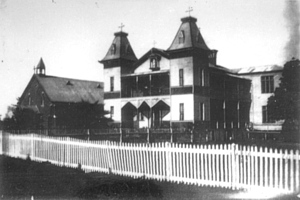 St Joseph's Orphanage, Cowper, NSW
As with many records kept about children in care from this time, the files were poorly stored, and never correctly indexed or catalogued. This meant that those who were the subject of the files have experienced difficulty in finding out basic information about their lives. With the support of a RAD Grant, MacKillop Family Services will catalogue, index, digitise, and safely store records including 2125 client file cards and 466 Baptismal records from 1920 to 1972. People who spent time in St Joseph's Orphanage will now be able to access vital information about their childhood. As well as being accessible, the records will also be protected from any further damage.
MacKillop Family Services' work is underpinned by the Sanctuary Model, an evidence-based, trauma-informed framework. Whilst the records will be stored in a safe facility in Victoria to protect them from further damage, support will be available in Grafton for those who want personal assistance through the records access process.
As increasing numbers of people who were in care are accessing records held by MacKillop Family Services, this RAD funded project will ensure that those who could not previously find records and were in danger of losing them due to poor storage and neglect will now be able to find information vital to helping them understand who they are.
MacKillop Family Services is located in Melbourne, Victoria.
Find out more about MFS at: https://www.mackillop.org.au/our-services/heritage
For more information on St Joseph's Orphanage, see: www.findandconnect.gov.au/ref/nsw/biogs/NE00172b.htm