Guest Post
Elizabeth Tydd,
NSW Information Commissioner
The importance of gaining access to information about out of home care has been recognised with the launch of a new guideline by the NSW Information Commissioner. The Guideline must be considered by all NSW government sector agencies when deciding if care leavers should be given access to these important records.
Information Access Guideline 8 – Care Leavers' access to Out-of-Home Care Records is designed to support access to institutional care records as fully and efficiently as possible.
Government and non-government agencies in Australia hold records about an estimated 500,000 people who were in institutional care as children during the 20th century. Their experience – and their plight – was recognised in the Australian Government's National Apology to Forgotten Australians and Former Child Migrants in 2009, in the Report of the Royal Commission into Institutional Responses to Child Sexual Abuse in 2017.
In New South Wales government and non-government agencies hold historical records relating to out-of-home care arrangements. Additionally, under the Government Information (Public Access) Act 2009 (GIPA) those agencies have an immediate right of access to information held by non-government agencies that provided these services to children and adolescents.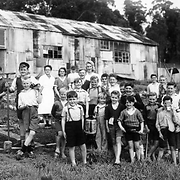 Woodland Boys Home NSW 1949
An extensive range of personal and non-personal information is kept within these records. This information is vitally important to people who have experienced out of home care.
The Guideline recognises that there is general acceptance across Australia, both by government and non-government bodies, that a special commitment going beyond legal requirements is needed to facilitate easier access by care leavers to out-of-home care records. This commitment is based on a number of important considerations including:
Knowing one's identity and personal history.
A care leaver may need access in order to explore options for contacting and connecting with their genetic relatives or other care leavers.
The records may contain valuable memorabilia of a person's childhood.
Many care leavers suffered personal and social deprivation, and in some cases physical and sexual abuse and want to know more about their individual circumstances.
Learning more about one's personal history and journey is an element of redress.
Some care leavers either have, or wish, to institute civil proceedings regarding their abuse or mistreatment, or to apply under a government reparations scheme.
Society has accepted that the standard of institutional care provided in earlier years was unacceptable.
"These and other factors are highlighted in the Guideline to ensure that decision makers consider and apply them when deciding to provide access to information to people who have experienced out of home care arrangements. It will aid public interest decision making by agencies. Additionally it enables applicants to identify and include relevant factors in support of their application to access these important records."