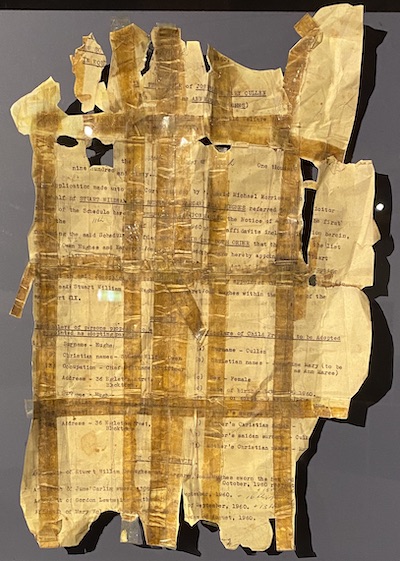 Adoption Order, 1961.
Anne was adopted in 1960 from St Anthony's Home in Croydon, NSW and her adoption was finalised in March 1961. She was given the document in 1973 by her adoptive father as a form of identification so she could register for a netball club. Anne kept the document folded up in her wallet for many years and continued to use it as a form of identification, until she applied for her original birth certificate when NSW laws changed in 1991.
–Without Consent exhibition
In 2015, the Without Consent exhibition was opened by former Prime Minister Julia Gillard. This month, Adelaide becomes the final destination for the exhibition, which will close on the 26th of April 2020.
Without Consent documents the practice of Forced Adoption, both through the perspective and work of those who experienced it, and to provide a history of the practice in Australia.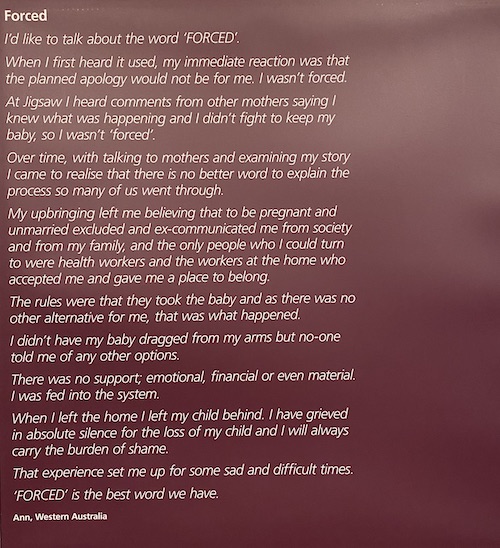 –Without Consent exhibition
We cannot know how many forced adoptions took place, however the number has been estimated in the tens of thousands. Records, where they have been found, do not include information about why the child was adopted, or whether consent was co-erced.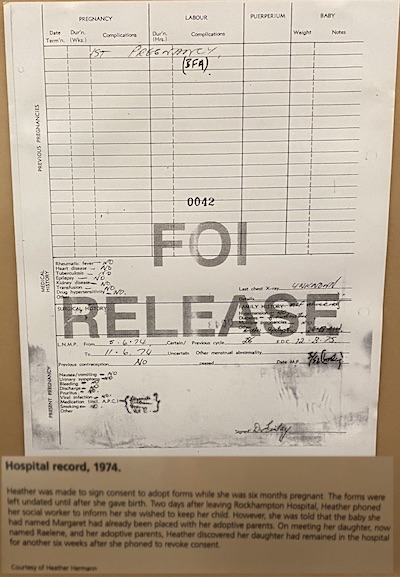 –Without Consent exhibition
The exhibition is part of the Forced Adoptions History Project, which was part of a commitment by the Australian Government to "ensuring that all those affected get the help they need, including access to specialist counselling services and support, the ability to find the truth in freely available records and assistance in reconnecting with lost family."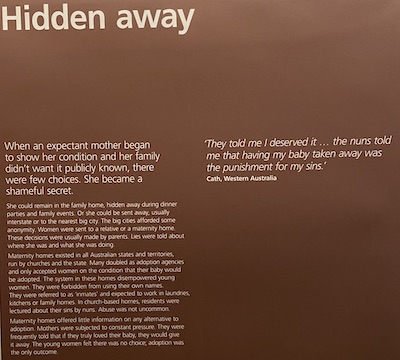 –Without Consent exhibition
Without consent will be at the:
State Library of South Australia
North Terrace and Kintore Avenue, Adelaide, SA 5000
7 February – 26 April 2020
If you haven't visited the exhibition, you can watch a recording of the exhibition walk through here.
Find & Connect brings together academic research into the history of institutions (including orphanages, children's Homes and other institutions providing out-of-home care) with archival records and photos to assist those who grew up in care develop a better understanding of their childhood. It is the most comprehensive resource of its type in Australia, and the only resource of its type in the world.

Find and Connect has information about Forced Adoptions in Australia. Institutions involved in Forced Adoptions, such as maternity hospitals and babies' homes can also be found on the site.

To contact a Forced Adoption Support Service in your state or territory call 1800 21 03 13.