While we're still spending a lot of time at home and it's getting colder outside, we've all got a good excuse to stay in with good book, watch a movie, or listen to a podcast.
We compiled a list of things to watch and listen to for Blog June back in 2018 – some of them are not available anymore but many are.
You can see them here:
Watching the Past in the Present – films, tv & documentaries
Hearing the Past in the Present – online exhibitions, oral histories, radio/podcasts and theatre
We've got together some new publications that tell the story of Forgotten Australians, Care Leavers, Former Child Migrants and members of the Stolen Generations. There are also titles in here that are more generally about children growing up in out of home care, or away from their families.
Watch:
Revelation: A ground-breaking documentary series on the criminal priests and brothers of the Catholic Church, their crimes laid bare for the first time in their own words. https://iview.abc.net.au/show/revelation
The Cult Of The Family: A three-part investigation that chronicles the rise and fall of Australia's most notorious cult; The Family and its strange but charismatic female leader, Anne Hamilton-Byrne.
https://iview.abc.net.au/show/cult-of-the-family
Parragirls Past, Present. Unlocking memories of institutional 'care': A deeply moving immersive experience, presenting former residents' visions of the Parramatta Girls Home today.
https://www.parragirlsmovie.com/
Annie: The original! A young orphan girl's adventures in finding a family that will take her. https://www.imdb.com/title/tt0083564/
Lion: A five-year-old Indian boy is adopted by an Australian couple after getting lost hundreds of kilometers from home. 25 years later, he sets out to find his lost family.
https://www.imdb.com/title/tt3741834/
Instant Family: A couple find themselves in over their heads when they foster three children.
https://www.imdb.com/title/tt7401588/?ref_=ttfc_fc_tt
Reconciliation Film Club: There are a number of resources listed here about the Stolen Generations and Reconciliation more widely, and also interviews to watch.
https://www.sbs.com.au/learn/reconciliationfilmclub
Read
The Conversation 'Care leavers: 'Trying to access childhood records is distressing and dehumanising'. This article is about England but covers the experience of accessing records.
https://theconversation.com/care-leavers-trying-to-access-childhood-records-is-distressing-and-dehumanising-124381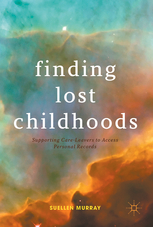 Finding Lost Childhoods Supporting Care-Leavers to Access Personal Records: This book explores care-leavers' access to their personal records. People who grew up in care in previous decades may know little about their family nor understand why they were placed in care nor how decisions were made about their lives.
http://researchbank.rmit.edu.au/view/rmit:45445
Parragirls: Profiles the transformative artwork Parragirls realised in collaboration with contemporary artists and communities since the Parragirls Memory Project began in 2012. This vividly illustrated book reveals how art can change places and perceptions, in this case the long-neglected site of Parramatta Girls Home in Western Sydney, located on the lands of the Burramattagal people of the Darug nation.
https://www.newsouthbooks.com.au/books/parragirls/
Listen
The Care Experience: This Podcast is explores the experiences of people who grew up in the care system from all over the world. It is presented by a care-leaver Thomas Mongan and an Advocate Peter Lane. It is brought to you by EPIC empowering people in care, an Irish Advocacy and Participation Charity.
https://thecareexperience.libsyn.com/