Find and Connect was established to provide information and support to people who spent time in care as children, particularly around finding records that were created about them in their time in care. There are a number of barriers in the way of a person who spent time in care accessing records that were created about them. These issues are magnified for Former Child Migrants.
Child migrants were generally under 14 years old, had been removed from their family in Britain (and in some cases Malta), and were sent unaccompanied to Australian institutions including farm schools, orphanages and children's homes. Migration was managed predominantly by British "voluntary societies" who had corresponding organisations in Australia, or who set up arrangements with local organisations including Barnardo's, Fairbridge and the Catholic Child Welfare Council for England and Wales.
Child migration was seen as an opportunity for disadvantaged children to start a new life abroad whilst strengthening British influence in the colonies by learning farming (boys) or domestic work (girls). Around 7000 children were sent to Australia.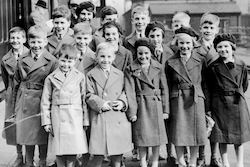 Fourth party at Fairbridge Farm School in Molong, NSW, 1939
Despite progress in child welfare in Britain, Australia maintained its reliance on large institutions and orphanages. In the UK, the 1946 Curtis report detailed the rights of children and importance of keeping families intact, paving the way for children to remain in their homes, or removed to fostering or small cottage homes that better mimicked the family situation. For child migrants however, despite the concern of British authorities these standards were never mandated or regulated, and they continued to be placed in institutions, as were Australian children at the time.
In 1956, a fact-finding trip to Australia led by John Ross was scathing about the child migration scheme, including the conditions at institutions including Bindoon, Dhurringile, and Riverview; however British authorities would not risk confrontation with the voluntary societies. Some, such as Fairbridge, had highly-placed connections. Migration continued.
As WW2 ended, a target of 50 000 child migrants was predicated on the assumption there would be many "war orphans" entering care. However these children remained with their surviving family, and the scheme continued as it had previously, sending children from orphanages and charitable societies with ties to Australian institutions.
The last child migrants arrived in the late 1960s, when there were no more children to send. Reforms of child welfare in Britain, a better understanding of the importance of maintaining a family unit, and changing perceptions of the Commonwealth meant that children were no longer nominated to be sent under these official child migration schemes. Australia began the shift away from large institutions at the same time, however some of these buildings and locations are now used as aged care facilities, causing ongoing distress to those who spent time in them as children.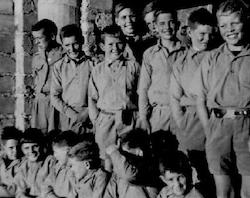 Bindoon, 1948
The life and welfare of children in care were absent in decisions about creating and keeping records, which can contain information about lost family, identity, and experiences. Like other child welfare records, the records of child migration are full of judgements about the children and their family situations, inaccuracies, omissions and casual cruelties. The information they hold can still be critical for those they were created about.
To add to the difficulty of Former Child Migrants to seek out their past and history, records created about the children at the time are not only held across different institutions and organisations, but also across continents.
Additional to the records that were created about children at the Homes where they were placed, many records were created by the Department of Immigration and are held by the National Archives of Australia. These include shipping records, policy, and correspondence files, which, while generally about the overall operation of the scheme, also contain details of many of the children, and sometimes their parents' details.
If you or a family member were part of the Child Migrant's scheme, you can contact the Child Migrants Trust for assistance. You are also eligible for support through Find & Connect.