Our work improving the site continues!
The latest significant update to findandconnect.gov.au is to the information we have on St Vincent de Paul orphanages in Victoria.
We've managed to find more information about these institutions, leading us to create new pages for specific locations, and to clarify and define changes in management over the years. We've also been able to clarify the dates that institutions split or were created.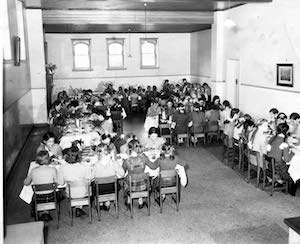 St Vincent de Paul's Girls' Orphanage, dining room
We've added three new pages, which you can see here:
St Vincent de Paul Orphanage, Prahran (1854 – 1857)
St Vincent's Hostel (1924 – 1967)
St Vincent de Paul Orphanage for Boys (1874 – 1967)
The pages that have been updated are:
St Vincent de Paul Orphanage (1857 – 1874)
St Vincent de Paul Boys' Home (1967 – 1997)
St Vincent de Paul's Girls' Orphanage (1874 – 1962)
St Vincent de Paul Children's Home (1962 – 1992)
We also added details to St Vincent de Paul Victorian institutions, in keeping with our commitment to include the voices and experiences of those who lived in these institutions.
We've cleared up some confusion that previously existed between the Sisters of Mercy and the Christian Brothers having responsibility for the orphanages – important due to the difference in management between these two groups.
We clearly recognise where children experienced abuse early in the information we provide about these institutions. This is a departure from many historical accounts which minimise or completely exclude children's experience of abuse in care.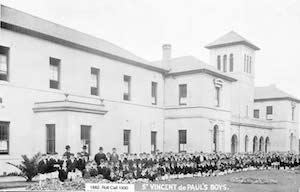 St Vincent de Paul's Boys roll call
Where we are without first hand accounts from children who stayed in these institutions, we use publications by the institutions themselves, historical references such as newspapers and journals, and submissions about living conditions in the orphanages to provide a more balanced view of what life was like for the children.
If you experienced time in care as a child, or have information about any of the institutions on our site, please contact us and we will update accordingly. Please be aware that we don't publish traumatic personal experiences or allegations, but aim to create a realistic and honest account of life in institutional care for children.