Guest Post: Dr Frank Golding OAM
Hon. Research Fellow, Federation University Australia
Life Member, CLAN
A wonderful opportunity has opened to hear the voices of people who grew up in orphanages, children's Homes, missions or foster care. Using the theme, 'Voice and Influence of people with lived experience', the prestigious British Journal of Social Work is putting together a special issue devoted to amplifying the voices of often unheard groups who come into contact with social work.
This is not restricted to out-of-home care, but could also include people with disability, homeless people, Indigenous people, people with experience in the mental health sector, and so on.
The Journal will publish this special issue online to maximise the range and style of items that can be included, text or non-text. It is calling for submissions in three categories:
regular research papers,
shorter reflective or opinion pieces, and
creative artefacts – which could take the form of artworks, photos, short videos, poems, and the like.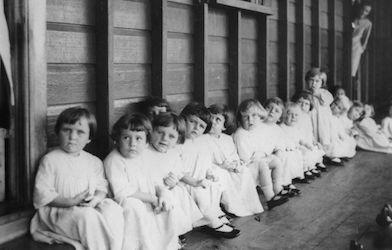 Nudgee Orphanage
In all cases, the Journal wants the lead author to be a person with lived experience, but does not rule out collaboration with other authors/researchers. In the case of written pieces, the editorial panel would be willing to work with the person with lived experience over an extended time to support them to complete their contribution.
I have been asked to join the editorial panel for this issue with a particular focus on the creative artefacts element and I will work closely with the guest editor in chief, Dr Mel Hughes. Mel is from the University of Bournemouth's 'Research Centre for Seldom Heard Voices'.
Opportunities like this don't come along often, so let's get the word out and encourage people to have a go at producing an item in any of the three categories. I have put further information up about timelines and what the Journal wants on https://frankgolding.com/voice-and-influence-of-people-with-lived-experience/