This week we commemorate the 13th anniversary of the National Apology to Forgotten Australians and Former Child Migrants.
Wednesday 16th November marks the date the Prime Minister made a formal apology on behalf of the nation for the neglect and abuse of children who grew up in institutional care between 1920 and 1990.
This year has seen significant change for the Find & Connect web resource, as we upgrade and redesign the website. The site has changed a great deal since it went live in 2011, after being announced in the 2009 apology as part of a program to assist people who were in care access their records, to find family, and to seek support from dedicated services in each state and territory.
After ten years, technology has changed considerably, making it easier for people to find information than ever before. Despite the content on the site being regularly updated, the site design and functionality has remained the same. We have shared screenshots and plans of the new site, and undertaken limited usability testing. We'll be rolling out expanded usability testing over the coming months, and we hope you will participate in building the site that works best for you. The Find & Connect website was built in collaboration with many people who had spent time in care, and we continue to centre their voices in our work.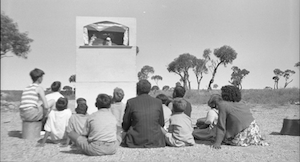 Puppet Show at Gundaree, WA, 1955
There have been some significant improvements in access to records since the Apology, but there is still a long way to go to making records easily accessible to the people who need them most. As we upgrade the site, we continue to advocate for better records access for people who were in care as children through conferences, direct assistance, submissions and online.
If you were in care before 1990 and need support, there's a Find & Connect service in every state and territory that you can call or email here: https://findandconnect.gov.au/contact