The first two Catholic Orphanages established in Australia have now been added to findandconnect.gov.au.
Find & Connect was established to assist people who were in care between 1920 & 1990, however the web resource also provides a history of care in Australia, so we are pleased to be able to include these institutions that opened soon after colonisation.
Community concern about Catholic children being raised Protestant led the Archdiocese of Sydney to open Australia's first Catholic Orphanage in Australia in 1837. The Roman Catholic Orphan School was located in Waverley House at Waverley, NSW.
The Orphanage took in both girls & boys, who were housed separately and provided an education, then sent on to apprenticeships. This addition to the website is another example of what we achieve with input from the community. We researched the Roman Catholic Orphan School and were able to include it on the site after CLAN brought it to our attention.
For more on the Roman Catholic Orphan School, see https://findandconnect.gov.au/ref/nsw/biogs/ENT0185b.htm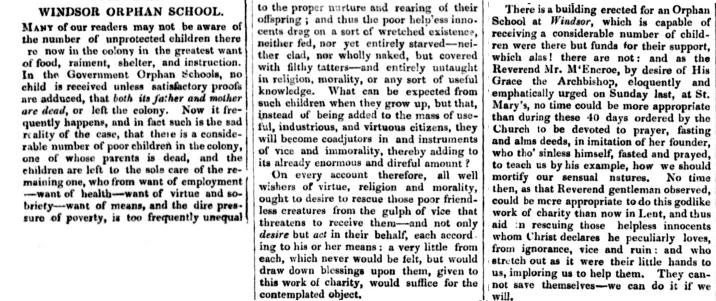 Morning Chronicle 19 February 1845
The second Catholic home in Australia, St Patrick's Orphan school, opened in 1840 at Windsor, NSW with only seven children, which grew to 20 the following year. St Patrick's took all children "without any distinction of creed, district, or country". Girls were not placed in domestic service until they were literate and had basic mathematics skills.
There were a number of articles about St Patrick's (find them under Publications) and reports from the committee published at the time it was open, however we have not been able to locate any photographs of the building or children.
For more on St Patrick's, see https://findandconnect.gov.au/ref/nsw/biogs/ENT0186b.htm

If you know of any institutions missing from the site, or have additional information on any that are currently included, please let us know: https://www.findandconnect.gov.au/contact