We've added photographs to a number of homes in NSW that provide a snapshot of children's daily life in care. Many of the photographs contain children, while some are of the homes they lived in, showing where they ate, worked, learned, played & slept.
The photographs, held by the NSW State Archives, were taken by officers of the Government Printing Office as they reported on conditions in homes, so were most likely staged examples of the children's everyday life.
Some children living out of home attended classes at the local school, while other institutions had their own schoolhouse or classroom located on site.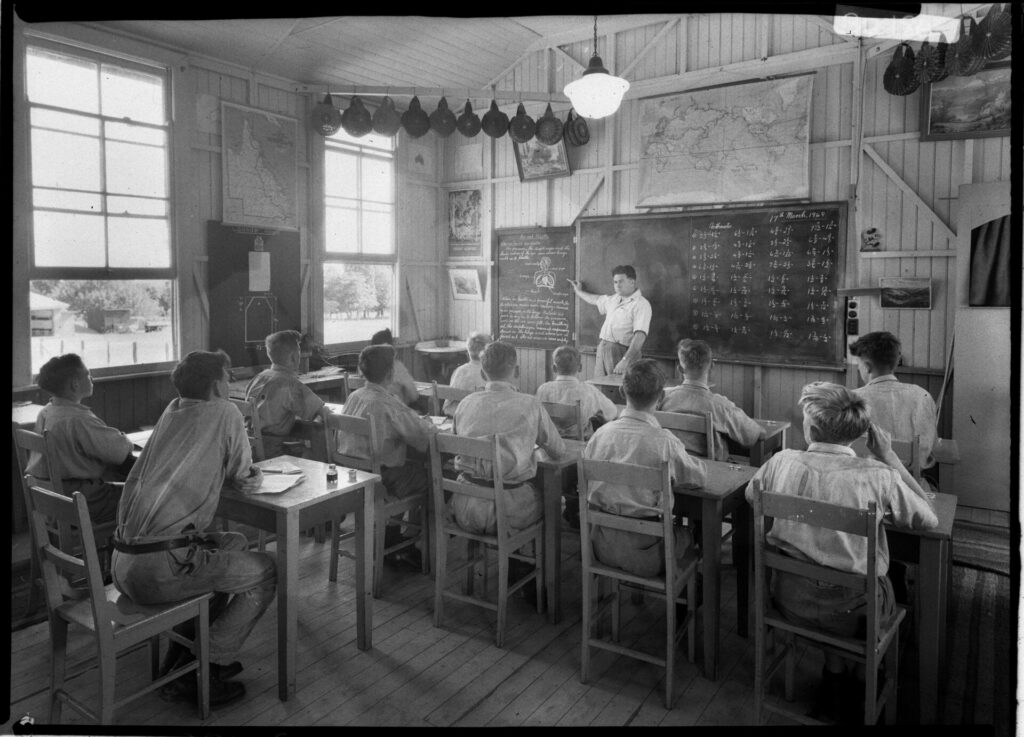 Mount Penang Training School was a reformatory predominately for older boys (14 to 16 years) who had been convicted of offences or were "difficult to manage" in other institutions. This photograph was taken in 1948, two years after the home was opened at Kariong, near Gosford. In this lesson, the teacher is pointing to an anatomy poster. Boys also learned trades such as mechanics, weaving and carpentry at Mount Penang Training school at this time.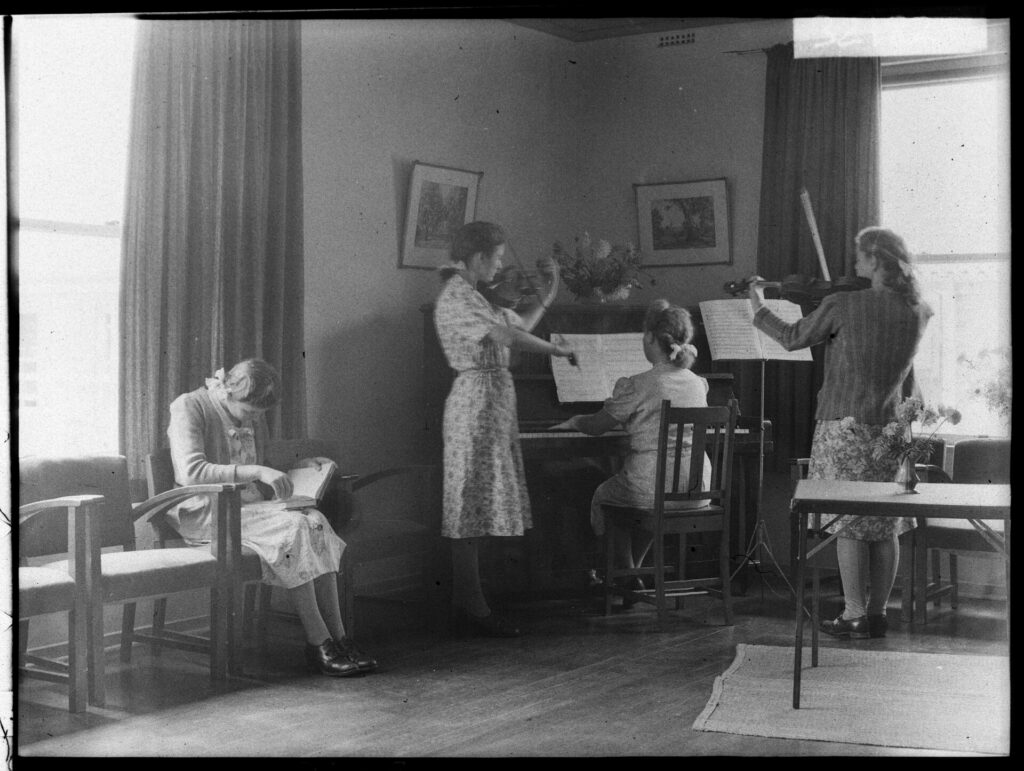 Parramatta girls approaching the end of their time in the institution who were thought to have 'responded well to their training' could move to the 'privilege' annexe that was Thornleigh Girls' Home (Ormond). Many of the restrictions experienced by those at Parramatta were relaxed, and the cottages were less prison-like, with a programme that emphasised cultural pursuits such as violin lessons, as shown in this photograph taken in 1941.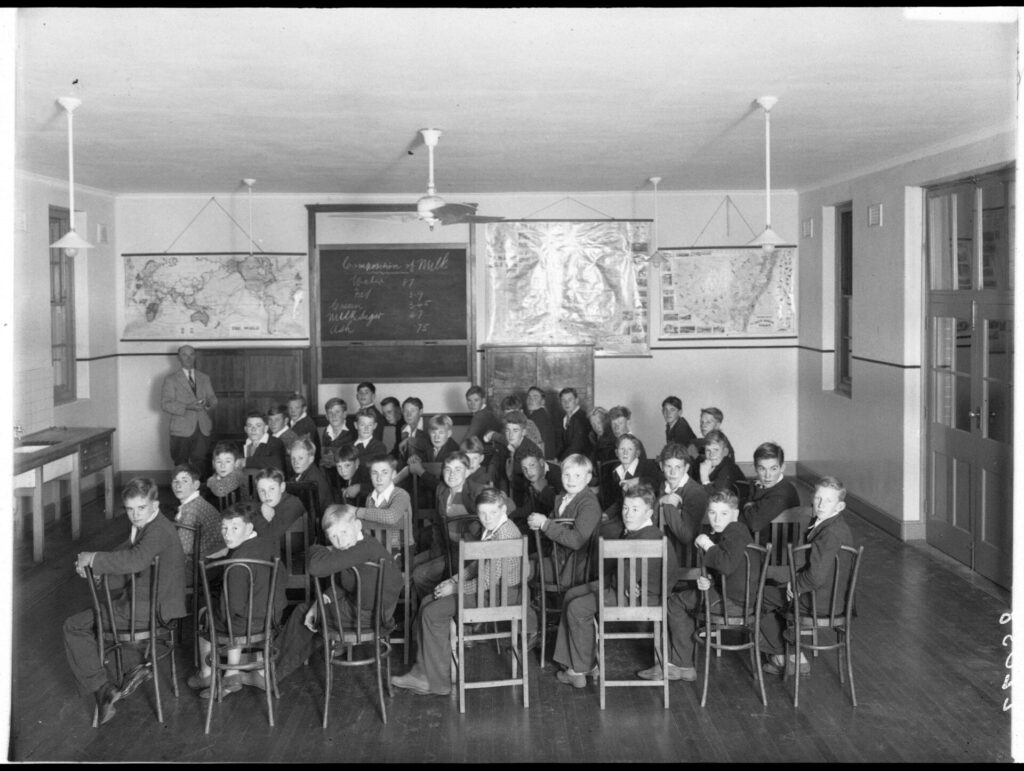 The composition of milk is the subject of this evening class at Berry Training Farm, taken in 1938, four years after the institution opened. At this time, Berry Training Farm took boys aged 14-18, preparing them in the classroom and on the farm and dairy itself for rural placement. This is one of two new images which have been added to Berry Training School photographs of children, their activities and surrounds.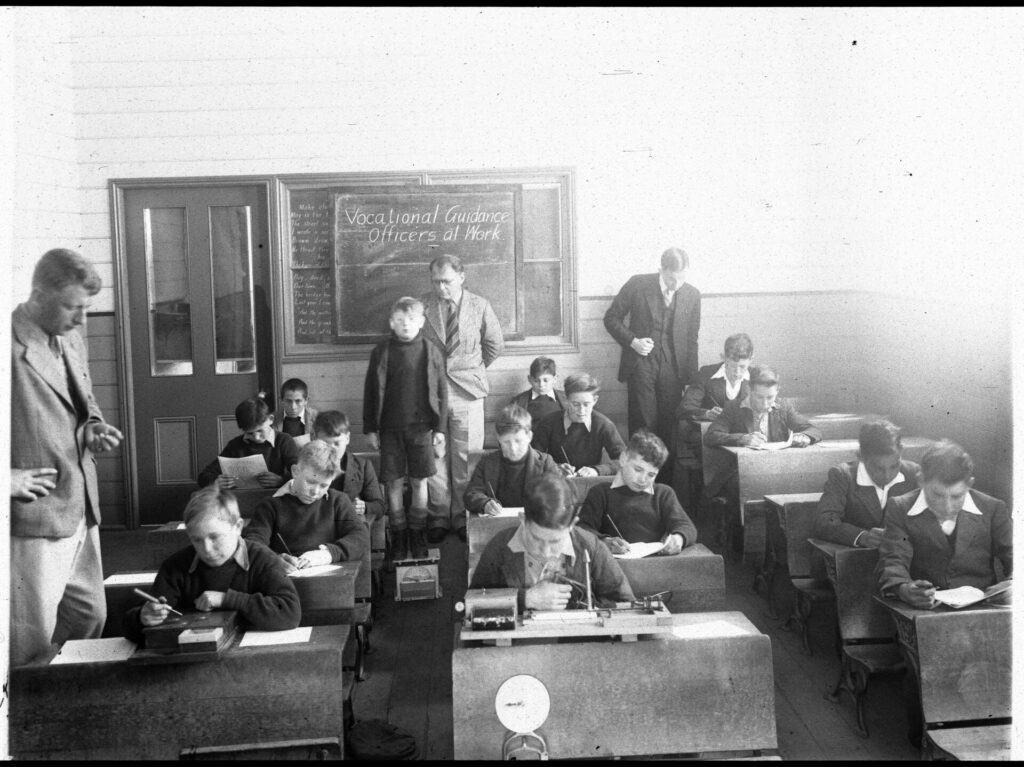 These 15 boys were photographed in class at Mittagong Farm Home for Boys in 1938 at the Lower Mittagong School, which was located on site for boys from the Farm Home. Parents of boys at Mittagong Farm Home could visit their children 'by arrangement'. The Child Welfare Department's annual report for 1937 to 1939 stated that the cottages the boys lived in at Mittagong, were 'obsolete by present standards' and noted that 'draft plans for extensive repairs, admissions and remodelling are under consideration'.