Throughout 2019 we will be highlighting projects funded by the RAD (Records Access Documentation) Grants.
Marist180 evolved from the programmes run by the Marist Brothers in and after St Vincent's Boys Home in NSW closed.
Marist180 holds approximately 10,000 records dating back to 1900, that they plan to digitise and make more accessible to past clients of their residential services.
These records contain varied information, including information regarding:
Placement Information
Casework & Permanency Planning
Health & Medical
Emotional & Behavioural Development
Education, Vocation, Training & Employment
Family & Relationships
Identity/Social
Living Skills
Legal
Client File Review/Audit
AfterCare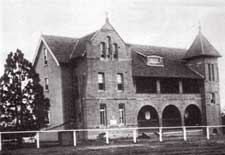 St Vincent's Boys' Home
RAD funding for the Historical Records Ease of Access Project will allow records from 1920-1983 to be retrieved and then digitally archived (approximately 1,330 records).
Digitising these records will act as insurance against the records degrading over time. They will also be protected from the ongoing handling required to retrieve, search and return the records to storage. This is particularly important with older records, including record books that are deteriorating due to frequency of handling.
This project will also allow for more efficient searches that can provide more information more quickly in response to enquiries. The turnaround time for those seeking records will be reduced from up to four days waiting time to being provided on the same day as the request.
Marist180 are located in NSW
For more information on the Marists in Australia, see: https://www.findandconnect.gov.au/ref/nsw/biogs/NE00139b.htm